Anti-Caking Systems for Shredded Cheese and Analogue blends in Casein Free and Reduced Casein Formulations.
Our family of cheese anti-caking products provides the shredded cheese manufacturer with a wide selection of products to meet the needs of today's finicky customer.
When cheese is shredded, grated, cubed or crumbled, it has a tendency over time to form a solid mass. Anti-caking agents are required to act as a separation barrier that, in technical terms, prevents a protein-protein interaction that would normally solidify the cheese. The anti-caking agent keeps the individual cheese pieces separated and distinct from one another, allowing the cheese manufacturer to offer a product with the quality and characteristics that their customers ask for and appreciate.
All of our blends can be customized to accommodate particular customer specifications. For example, oxygen scavenging and antimycotic protective solutions that can be applied with parts-per-million precision.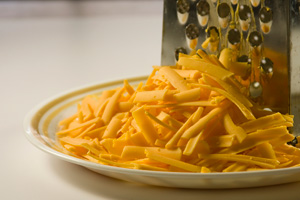 Free Flow® AB's Free Flow® line of anti-caking products uses carefully selected starches, with or without cellulose, in highly-researched ratios to optimize the anti-caking characteristics desired by the cheese industry. Our new generation manufacturing techniques offer less dust and lower visibility at higher application rates, and provide higher yields than cellulose-only blends.
SureFlo™ For instances where cellulose is preferred, we offer SureFlo™ anti-caking products. The SureFlo™ line is cellulose based, contains no starches and is perfect for manufacturers who prefer the benefits of a cellulose only anti-caking agent.
SecureFlo™ is a food-grade powder specifically designed to decrease the number of pathogens in a finished food product.  SecureFlo™ is a proprietary blend that has the unique ability to reduce pathogens while maintaining the desired natural flavor and appearance of finished food products.  While SecureFlo™ will not sterilize or sanitize a food product, it can be an aid to the food manufacturer in fulfilling its business objective of producing a high quality and safe food product for human consumption.
Flow Lite® is an innovative system that provides superior anti-caking protection for shredded cheese. More than 10 years in the making, this all-natural, GMO Free product contains no allergens or flavor, produces minimal dusting and provides excellent flowability to maximize production line speeds. Flow Lite® is also a superior carrier for antimycotics and oxygen scavenging systems. In addition, Flow Lite® minimizes browning in all pizza and other baked cheese applications better than any other anti-caking system – period!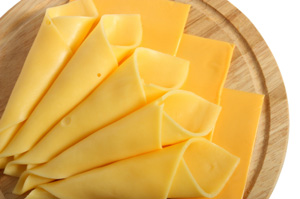 Products for Process Cheese (Reduced and Casein Free)
Cheese-Mor™ is AB's newest family of Analogue Cheese Blends.
Our trademarked blends make imitation and processed cheese production more advantageous and cost effective.They are compatible with existing equipment and processing parameters and provide a convenient all-in-one blend for imitation and processed cheese products.
Our blends:
Improve textural and physical characteristics compared to casein-based products
Reduce cost of imitation cheese products
Eliminate effects of casein price volatility
At AB, the quest for product innovation runs deep. Our management and staff address the search for "new and improved" products on a daily basis. Innovation is pursued hour-by-hour in the field as our technical sales team interacts with valued accounts and coveted prospective new customers. Innovation is our lifeblood.