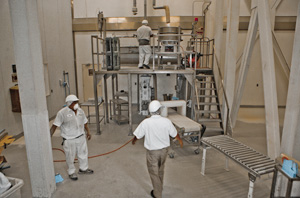 Allied Blending LP formulates, blends and distributes value-added, functional products for the food industry:
Anti-caking agents
Analogue cheese blends
Process cheese products
Pathogenic Inhibitors
Specialty starches
Food stabilizers
Tortilla blends and concentrates
Liquid reaction ingredients
Preservative and shelf life extenders
The company also serves industrial marketplaces. While Allied Blending LP is heavily focused on the cheese, bakery, and tortilla segments, it also produces highly specialized functional starches for:
Laundry
Precision Contract Manufacturing
Much of Allied Blending LP's success can be attributed to an exceptional infrastructure employing outstanding processes and procedures.
Technical Support: Allied Blending LP's technical service personnel find solutions to customers' complex scientific problems, clarify customer opportunity areas as they emerge, and respond rapidly when technical issues arise.
Product Development: Allied Blending LP excels because of its fully outfitted commercial bake lab, dairy research center; commercial grade tortilla production line that allows 'real world' product testing, and its outstanding staff of PhD and Food Scientist level talent.
Quality Assurance: Allied Blending LP supports its products with advanced quality assurance that runs from sales and customer service through manufacturing to transportation and delivery.
Laboratory Services: In addition to assuring that products are made to precise specifications, in-house laboratories at all manufacturing locations provide research capabilities to assist with customer product development efforts.
Customer Service: Allied Blending LP's most important mission is to provide complete customer satisfaction. Allied Blending LP knows that it will be judged as a company not just by its products and services, but also by its organizational performance and responsiveness to customer needs.