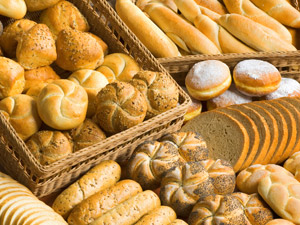 Allied Blending LP also manufactures a line of products to serve the baking industry. This includes chemical leavening agents, dough conditioners and dusting starches.
Bake-Mor® Family of Products
Allied Blending LP manufactures a range of enzyme-based baking ingredients that offer an all natural alternative to emulsifiers in bread formulations. Bake-Mor® blends deliver superior dough tolerance and consistent production characteristics. Applications include white and pan breads, flatbreads, pita, laminated or frozen dough, tortillas, pizza dough, Artisan breads, sweet goods, hamburger and hotdog buns, Kaiser and dinner rolls, crackers and bagels.
Why use Bake-Mor®?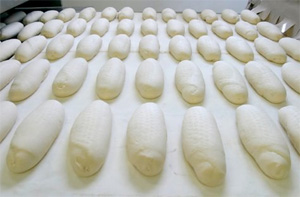 Improves extensibility for better sideway strength and tighter grain.
Provides uniform break and shred.
Inhibits "key holing".
Works with yeast and chemically-leavened bakery items.
Removes SSL, CSL, DATEM, mono and di-glycerides.
Enhances machineability and ensures better volume and uniform weight.
Reduces formula adjustments due to variances in flour quality.
Lowers formulation cost through increased absorption rate.
Produces great taste and a clean label from all natural ingredients.
Reduces "snap-back" effect on flat breads in hot or cold pressed applications.
Allows for less pressure on the tortilla press.
Cost effective alternative to vital wheat gluten.
Baking Powders
Allied Blending LP also produces classic Baking Powders that are used in a variety of foods.
Our line includes:
Single & Double Acting
Aluminum-free
All Natural
Wheat-free
Dusting Starches
Allied Blending LP produces a unique starch blend for the Chinese noodle and phylo dough markets. Our functional products permit easy processing of the dough "skins" in their specialized applications.