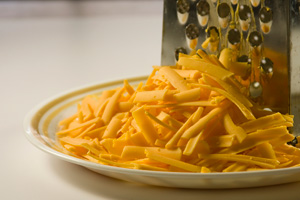 Proven Anti-Caking Systems for Shredded Cheese
Provide the shredded cheese quality and characteristics that your customers demand with anti-caking systems from AB. Our anti-caking solutions provide an effective barrier to keep your shredded, grated, cubed and crumbled cheese products separate from each another – and to prevent them from forming into a solid mass.
| | |
| --- | --- |
| Flow Lite® | A superior anti-caking protection for your shredded cheese, Flow Lite® is an innovative system that will exceed your expectations. More than 10 years in the making, this all-natural, GMO Free product contains no allergens or flavor, produces minimal dusting and provides excellent flowability to maximize production line speeds. Flow Lite® is also a superior carrier for antimycotics and oxygen scavenging systems. In addition, Flow Lite® minimizes browning in all pizza and other baked cheese applications better than any other anti-caking system – period! |
| Free Flow® | Optimize the appearance and performance of your shred products with Free Flow®. This line of advanced anti-caking products uses carefully selected potato and corn starches – with or without cellulose – in highly researched ratios to optimize the anti-caking characteristics desired by the cheese industry. Free Flow® also features next-generation processing to deliver less dust and lower visibility for higher application rates and better yields. In addition, Free Flow® can provide the antimycotic and oxygen scavenging options that you need to ensure the highest levels of safety and freshness. |
| SureFlo™ | Enjoy the benefits of a cellulose only anti-caking agent with SureFlo™ cellulose based blends. These innovative starch-free, cellulose-based products provide the same antimycotic and oxygen scavenging options as our Free Flow® product line. |
| SecureFlo™ | Decrease the number of pathogens in your finished food products with SecureFloTM pathogen anti-microbial technology. Delivered as a functional attribute in anti-cake systems, this proprietary food-grade powder has the unique ability to reduce pathogens and maintain the desired natural flavor and appearance of food products. Best of all, you can use SecureFloTM with both starch and cellulose-based agents to reduce Listeria, Salmonella and E. coli populations and protect against all FDA and USDA listed toxin-producing STECs. All of which makes it easier for your company to produce safe food products. |
We can also customize our blends to meet your exact customer specifications. For example, we can apply oxygen scavenging and antimycotic protective solutions with parts-per-million precision.

For More Information
To learn more about our proven anti-caking systems for shredded cheese, please contact us to discuss your specific processing needs.