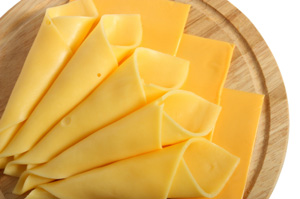 Cost-Effective Blends for Processed Cheese
Get more for your money with Cheese-Mor®. Our all-in-one blends feature casein-free technology that stabilizes ingredient pricing, improves batch-to-batch consistency and enhances product performance. We also offer an array of labor-saving, all-in-one blends that work well with your existing processing and packaging equipment to deliver more convenience and cost-effectiveness.
| | |
| --- | --- |
| Block Cheese 100 Series | Non-mozzarella blends are available for fast, moderate or restricted melt temperatures (stretch is dependent on blend). |
| Block Cheese 320 Series | Non-mozzarella blends up to 40%, with no stretch and high melt temperature. |
| Vegan 500 Series | Available as slices, loaves, shreds and sticks with low stretch and moderate melt – or as salad bar blocks with no stretch and no melt. |
| Pizza Topping 920 Series | Mozzarella cheese blends up to 50%, with good stretch and moderate melt. |
| IWS Series | Individually wrapped slices (IWS) of imitation cheese. |
For More Information
To learn how Cheese-Mor® Blends can help make your processed and blended cheese production more convenient and profitable, please contact us today.